Wednesday, January 18, 2017
Due to harassment and lack of allyship this educational post/resource has been removed. Why?
More Book Blogging Tips:
Are You Awkward About Getting Review Requests from Authors?
8 Tips to Get Motivated to Write Blog Posts
More Generous Ratings for Indie Books?
More on problematicness:
Should We Separate Authors from Their Problematic Work? On False Representation and Whether Authors Deserve Call-Outs
Do We Owe It to Authors to Call Out Problematic Books "Nicely?"
How to Enjoy A Problematic Book and Not Be a Jerk About It
Emergency Help When You Have to Review a "Problematic Book"
Continue Reading...
Labels: anna banks, bbt, book blogging tips, jay kristoff, krystal sutherland, leigh bardugo, marie rutkoski, marissa meyer, masterlist., nicola yoon, resource, robin talley, sophie kinsella, suzanne young
Thursday, January 5, 2017
In CINDER, cyborg Cinder gets mixed up in royal business and a conspiracy when her stepsister catches the Plague.
What intrigued me:
I'm the last person on this planet that hasn't read this.
A horrific lack of... well, everything?
Bland is probably the most fitting word to describe the world of CINDER. What initially got me interested in this novel was the so highly-acclaimed and praised imaginative world. I was expecting top-notch world building and a lot of creativity. I was surprised to find neither in this novel.
Meyer applies a very amateurish technique when it comes to establishing her world - throwing around words with no meaning and expecting the reader to buy this. Nod and smile. The Lunar people who are barely in this book yet make up a huge chunk of the blurb, aren't explained at all. Why are cyborgs outcasts? How do Lunars get their power? How did humanity colonize the Moon? CINDER fails at even establishing the most basic questions about this world.
Following this trend, the plot isn't even worth mentioning, neither are the characters. Instead of a retelling, I'd simply call this a reproduction of the original, throwing in the cyborg thing. It's predictable, and the characters have an astonishing lack of personality. The only character that I found remotely interesting is Queen Levana, who is basically the YA equivalent of a Disney villain that's evil for evil's sake. Yawn.
People of color are NOT your aesthetic
Aside from the sheer boringness of the plot the one thing that upsets me, offends me, and makes me quite sad that people don't talk about more is the fact that CINDER simply uses Chinese characters, imagery, and culture for aesthetics.


You can absolutely tell that there went no thought and no research into developing New Beijing, aside from creating a generic Chinese town. The characters have Chinese names, there are bits and bobs you've probably recognized from every Hollywood movie set in China ever, but not a hint of Chinese culture. The characters aren't Chinese, they are white people dressing up. Meyer's characters are wearing a POC costume, just for the sake of being able to say that this is a diverse book. This is not a diverse book.
This is not the kind of representation people of color want, care for, or appreciate. This is cultural appropriation actually. Of course there are always people who'll say "hey, it's fiction, let her do what she wants", which I consider absolutely irrelevant to the point. Had Meyer bothered to add an ounce of actual Chinese customs and culture in this, even tried instead of just throwing Chinese names around thinking that's enough for world building, I wouldn't have been so harsh.


Rating:


★
☆
☆
☆☆
Overall: Do I Recommend?
CINDER is an absolute disappointment. The blatant use of a "foreign" culture for aesthetics is simply appalling, only surpassed by the boring characters and lack of world building.
Link to a review by an Asian reviewer who basically said the same thing.
Published:
January 3rd 2012
Pages: 390
Publisher: Feiwel & Friends
Genre: YA / Dystopian
ISBN:
9780312641894
Synopsis:
"

Humans and androids crowd the raucous streets of New Beijing. A deadly plague ravages the population. From space, a ruthless lunar people watch, waiting to make their move. No one knows that Earth's fate hinges on one girl.



Cinder, a gifted mechanic, is a cyborg. She's a second-class citizen with a mysterious past, reviled by her stepmother and blamed for her stepsister's illness. But when her life becomes intertwined with the handsome Prince Kai's, she suddenly finds herself at the center of an intergalactic struggle, and a forbidden attraction. Caught between duty and freedom, loyalty and betrayal, she must uncover secrets about her past in order to protect her world's future.

"

(Source: Goodreads)
Have you read CINDER?
Continue Reading...
Sunday, September 4, 2016
I'm generally hardly a person that sticks with a series unless it absolutely knocked my socks off. Therefore I simply got a lot of unfinished series on my shelves. Some of them well-known. Here are they:
I think this is simply a case of being too late to the party. I'm not sure whether this book inspired lots of similar dystopian books that read exactly the same, or it was inspired by them. I felt like I've read 78 books like this already, mabye I would've liked this more had I read it after the release.
I think I will maybe give other books by them a chance, but I really wasn't a fan. I found the Southern theme too over the top, despite this being undoubtedly a very skillfully written book that's surely innovative in the right places. I felt like the story of the two protagonists wasn't really interesting enough (to me), to want to read a sequel.
I think the hype simply ruined this for me. I was expecting something completely different. A thriller, a horror story, just something fast-paced and exciting. I found the novel not really exciting at all and too romance-centric for my taste.
I don't know what happened here, I love astrology and sci-fi, yet this just didn't hit the right spot for me. Maybe it's because the majority of the characters are human, I would have loved some more aliens. I mean it's space, come on!
TALON - Julie Kagawa
Again one of those books that I'm positive I would've liked had I read it earlier. Maybe this would have been something for 14 year old me. Again, the tropes and the entire world feels so recycled! I love paranormal romance usually but this lacked any ounce of originality in my opinion.
I love this book. But she decided to switch protagonists in the sequel and I'm not really a fan of that.
CINDER - Marissa Meyer
I really didn't like anything about this. The hype really had me super curious especially because I love fairytale retellings and sci-fi. This one has it both! I found the diversity/Chinese aesthetic super forced and lowkey pretty racist. It really ruined everything for me to be honest!
I think this is just an overall case of "not for me". The writing, the characters, the plot - I'm surprised I even managed to finish this in the first place.
RED QUEEN - Victoria Aveyard
This book is simply hit or miss if you look at everyone's reviews. For me it was a miss, for reasons you've probably heard about.


Which book series will you never finish?
Continue Reading...
Tuesday, September 1, 2015
When I tell people that I love to read books about vampires, I still get a bunch of weird looks.
"Vampires are so 2007", "Vampires aren't in anymore"
"Vampires are sooo boring", "Omg did you like Twilight??!" -
I can't even recall all the things people have said to me, because at some point, I just stopped listening.
Yeah, vampires may have been a trend in 2007, but that doesn't mean I still can't like them, right?
There actually is a crowd of people in the book blogging community that is all about the same stuff.
You tend to find the same books on ten different blogs. Especially with YA, people play favorites. You can't run a YA book blog without even just having heard of Marissa Meyer, Stephanie Perkins, Tahereh Mafi, and Sarah J. Maas.
Whether it's the same five authors all over everyones' blogs or the same topics, sometimes posts tend to get repetitive. I see the same genre stuff on countless blogs all the time.
Is it a bad thing to like popular stuff?
Of course not. You can like whatever you want, and if you want to post about it, you do you. What bugs me isn't that people tend to go for the same genre/author books all the time, but seeing people pretend to like them just for the sake of belonging to the IT crowd. If you obsess about something for quite some time, you'll start to romanticize it. Same goes for books.
Why is it that you can't like what you like and not be afraid to show it?
What's
in
today, might be
out
tomorrow. I'm not a high schooler anymore, I don't care what people think is cool. My reading habits are maybe influenced by what's popular right now due to hypes, but I decide on my own whether I actually like it or not. You should, too.
Swimming with the stream in terms of reading preferences can get pretty exhausting and is not worth it.
I used to try to keep up with the recent trends and at least read the books everyone is going on about.
I don't anymore, because I don't want to have to keep up with anyone's expectations but my own. I like to read what I read and if it isn't what's cool right now, so be it.
Guilty pleasures don't exist
You may be mocking the trends of the early 2000s right now, but do you really think that dystopian fiction, those New Adult novels, or your paranormal romance books will still be cool in 2020? I don't think so.
I hate that we have to label everything a guilty pleasure that other people don't approve of. There should be no such thing as guilty pleasures.
Whatever you enjoy should be what you're proud of reading. Even if it's smutty mom porn.
I mean, these days that kind of stuff even makes it to the big screen ;).
No one should be ashamed of what they're reading, especially not on the internet.
Who the heck cares about trends anyways.
What is your stance on trends?

Do you check out the popular stuff or do your own thing entirely?


More YA Talks:
Continue Reading...
Labels: guilty, guilty pleasure, marissa meyer, popular, sarah j. maas, stephanie perkins, tahereh mafi, trends, twilight, vampires, ya talk, yat
Tuesday, June 2, 2015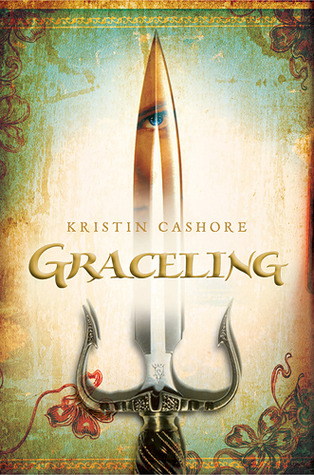 Harcourt Cover, 2008.
10. Graceling - Kristin Cashore (TV Show)
If Game of Thrones can do it, why not Graceling? Has there ever been a tv show set in a high fantasy universe with a female lead? Like, ever? Let me know in the comments if you can think of one.
9. Uglies - Scottt Westerfeld (Movie Series)
I think in this day and age it could actually be beneficial to society to get this turned into a movie series so we could get rid of all that superficial BS.
8. Hex Hall - Rachel Hawkins (Movie)
I just want badass teenage witches on screen again. How long has it been? Four score and a seven years for sure. I'd even be satisfied if you turn this into a horribly executed chick-flick like you did with Vampire Academy (RIP), that's how thirsty I am for witches.
7. Cinder - Marissa Meyer (Movie Series)
The world needs another movie series set in space and with that current trend in life-action fairytale movies this is our chance. I want the books to be made into movies and I demand a cast that's true to the books.
6. Inkspell - Cornelia Funke (Movie)
What did you say? There is already a movie? I believe you must be mistaken, I don't think there's ever been a movie, I refuse to call this piece of ... I don't even know what to describe it as. Bottom line is, we deserve a remake for this epic, epic book series and this time, please do it right.
5. Hush Hush - Becca Fitzpatrick (Movie Series)
Angels. Give me some accurately represented frighteningly beautiful angels in their own movie. You'd think there's a market for that with all that vampire stuff that's been shoved down our throats for half a decade.
4. Wicked Lovely - Melissa Marr (Tv show)
I don't think there's been a movie about faeries in ages. With exception of that god-awful fairy subplot in True Blood a few years ago of course. The world is ready for another movie series about faeries. Bring it on.
3. Starters - Lissa Price (Movie)
Razorbill Covers
It's James Bond with heels and guns. How can you say no to that? I believe there's even an online petition for it to become a movie going on somewhere.
2. Matched - Allie Condie (Movie)
Come on. Soulmate movies are never a bad idea.
1. Vampire Academy Series - Richelle Mead (TV Show, Movie Series, ANYTHING)
You saw this coming, admit it. I'm just so frustrated. How come the shadowhunters fandom gets both a tv show and a movie and we're stuck with a single shitty movie and major book hangovers?


Which Book Do You NEED to Have Turned into a Movie ASAP?
Continue Reading...
Labels
ya
(149)
book blogging tips
(58)
recommendation
(35)
top ten tuesday
(27)
ya talk
(27)
sci-fi
(21)
romance
(20)
sophie kinsella
(19)
waiting on wednesday
(18)
mythology
(17)
vampires
(17)
jennifer l. armentrout
(13)
richelle mead
(12)
greek mythology
(11)
chick-lit
(10)
vampire academy
(10)
david levithan
(8)
l.j. smith
(8)
lux series
(8)
meg cabot
(8)
jodi picoult
(5)
Bloggiesta
(4)
josephine angelini
(4)
kerstin gier
(2)
lissa price
(1)
wishlist wednesday
(1)